This year the Bernice Grafstein Award for Outstanding Accomplishments in Mentoring goes to Dr. Carmen Maldonado-Vlaar (NeuroID's Co-PI) and Dr. Barbara Shinn-Cunningham.
A piece of SfN article: "Society for Neuroscience Celebrates Committed Women Mentors and Unique Early-Career Researchers"
"The Bernice Grafstein Award for Outstanding Accomplishments in Mentoring recognizes individuals dedicated to developing the careers of female neuroscientists. Supported by an endowment from Bernice Grafstein, Ph.D., the first female president of SfN, the award recognizes leaders who have aided the early careers of women neuroscientists and facilitated their retention in the field. Honorees share a $2,500 cash prize." (SfN, 2020)
"Carmen S. Maldonado-Vlaar, Ph.D., is a professor in the department of biology at the University of Puerto Rico-Rio Pedra Campus whose research combines molecular, behavioral, and neuroanatomical approaches to study cocaine addiction. Using direct brain microinfusions, intravenous cocaine self-administration protocols, and novel protocols in rats, she investigates neurochemical and molecular substrates of cocaine dependence and hopes to discover potential cellular targets for treatments."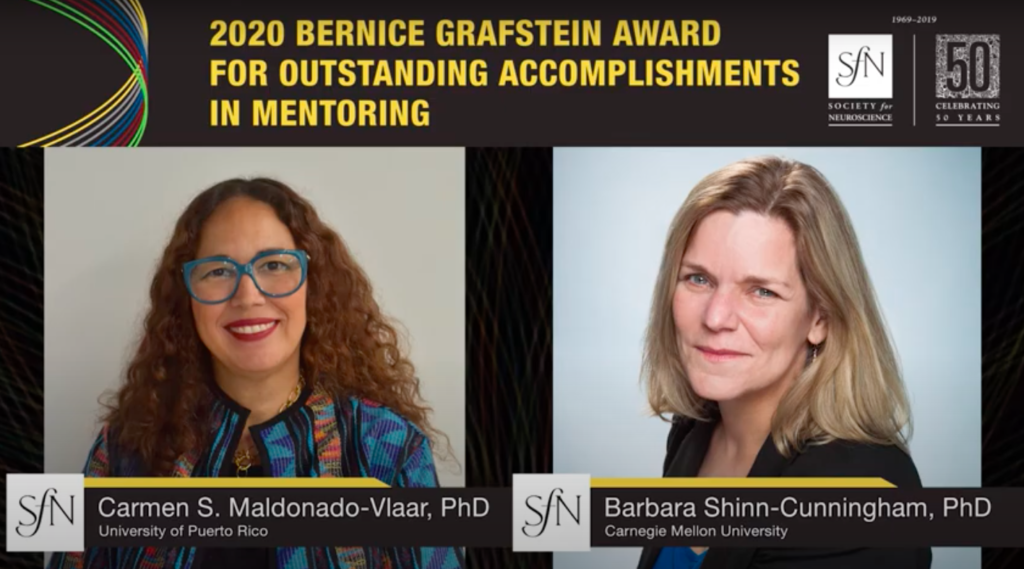 "In addition to her research, Maldonado-Vlaar has devoted countless hours to mentoring diverse female neuroscientists at all levels, from undergraduate students to faculty members. She has mentored more than 100 undergraduate students, all of whom were Latinx and more than 70 percent women. Two-thirds of the graduate students trained in her lab have been Latinas and her mentorship has had a huge impact on Puerto Rican women pursuing neuroscience research. She leads and actively participates in many programs aimed at promoting increased access of women and members of underrepresented groups to
careers in neuroscience such as the Marine Biological Laboratory Summer Program in Neuroscience, Ethics, and Survival (SPINES); the Training Advisory Committee (TAC) for Diversity Program in Neuroscience (DPN) from the American Psychological Association; and the Neuroscience Research Opportunities to Increase Diversity (NeuroID) Training grant for undergraduate students in neuroscience funded by the BP-ENDURE program from National Institutes of Health. She also established the Center for Undergraduate Research and Learning (CRIIAS, by its Spanish acronym) at her institution. She is a popular and sought-after mentor thanks to her combination of demanding scientific rigor while understanding and relating to the challenges faced by female, minority students." (SfN, 2020)
To read the entire article go here.
---
Reference:
S. (2020, October 27). Society for Neuroscience Celebrates Committed Women Mentors and Unique Early-Career Researchers. Retrieved October 27, 2020, from https://www.sfn.org/publications/latest-news/2020/10/27/society-for-neuroscience-celebrates-committed-women-mentors-and-unique-early-career-researchers