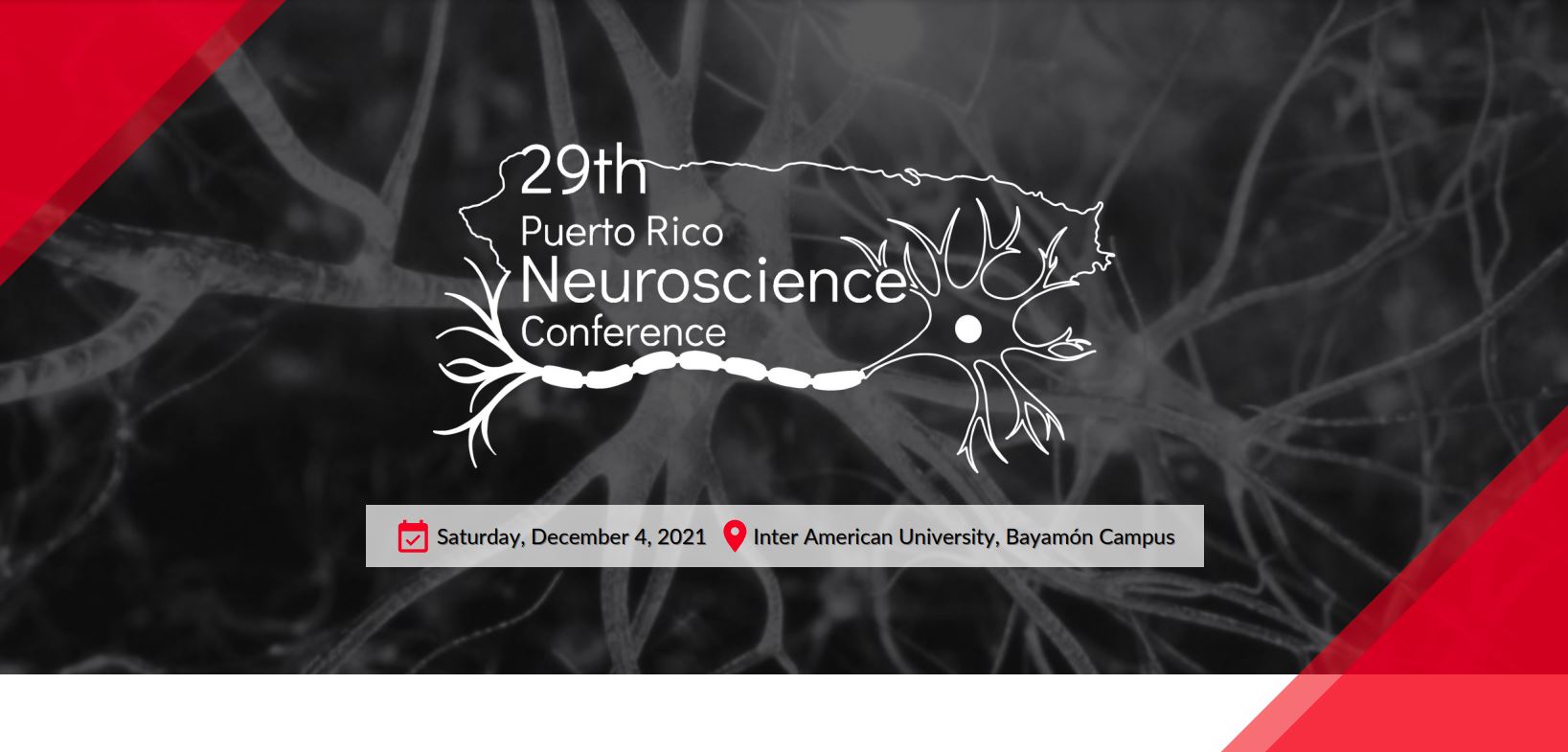 ---
About the conference
---
The 29th Puerto Rico Neuroscience Conference is the most important annual event of Neuroscience in Puerto Rico. An event that supports the Neuroscience research and training in Puerto Rico and beyond. This event is a one-day meeting, and it was held in person and virtually on Saturday, December 4, 2021. The in person event took place at the Theater of the Interamerican University of Puerto Rico, Bayamón Campus. The University of Puerto Rico, Río Piedras Campus hosted the event in collaborations with the UPR-Medical Sciences Campus, Institute of Neurobiology, Universidad Central del Caribe, Ponce Health Sciences University and Pontifical Catholic University Puerto Rico.
This conference consisted of four plenary talks by leading neuroscience researchers. In addition, the event hosted a Women in Neuroscience panel with three promising Puerto Rican neuroscientists. Also, the event included poster/oral presentations from: undergraduate, graduate students, postdocs, and faculty interested in a broad spectrum of topics within the neurosciences. The PRNeuro 2021 was an excellent way for students and faculty to interact, learn and discover the outstanding neuroscience research conducted in Puerto Rico and in the mainland.
29th PR Neuroscience Conference Gallery
Event's Evaluation Report
---
Message from the President of the 29th Puerto Rico Neuroscience Conference
"We will rebuild, reconcile and recover"

-Amanda Gorman
This quote by the young and brilliant African American poet Ms. Amanda Gorman inspires us to look forward to a future during these challenging times. This is the second Puerto Rico Neuroscience Conference held against all odds and difficulties during the COVID-19 pandemic. The members of the organizing committee have done a superb job in preparing an excellent conference program with outstanding plenary lecture speakers. In addition, we have received significant support from our neuroscience community with a strong attendance and important number of poster presentations. This year we have also included a panel of up-and-coming excellent Puerto Rican women neuroscientists from diverse backgrounds to talk about their research and contributions to their fields of study. Our 29th Neuroscience Conference will be a hybrid event with all talks shared through our online platforms and our poster presentations and social events will be in person format. This year is our 29th anniversary of consistently successfully developing the neuroscience community within our borders yet with impactful resonance across the world. As president of this year's meeting, I was honored to serve our community that continues to grow every year. My heartfelt thanks go to all members of the organizing committee to always support our efforts to make this event a memorable one. To the invited speakers we are very appreciative of you accepting our invitation. We also thank all staff members from each of the sponsoring institutions that provided prompt administrative assistance. My special thanks go to the resourceful administrative team at the NeuroID program in UPR-Río Piedras- Marimar and Natalia, without your hard work and great creativity this event would have never been as successful. Finally, special thanks to our community of amazing students, outstanding faculty, and excellent staff for your unbreakable sponsorship.
See you next year 2022 when we celebrate 30 years of Neuroscience research in Puerto Rico!
Cordialmente,
Carmen S. Maldonado-Vlaar, Ph.D.
President
---
---
Panel | Women in Neuroscience
---
---
[smartslider3 slider="3″]
Organizing Committee
---
Carmen S. Maldonado-Vlaar, Ph.D. | President University of Puerto Rico, Río Piedras Campus
David E. Rivera Aponte, Ph.D. | Universidad Central del Caribe, School of Medicine
Annabell Segarra, Ph.D. | University of Puerto Rico, Medical Sciences Campus
Zaira Mateo, Ph.D. | Pontifical Catholic University of Puerto Rico
Emmanuel A. Cruz, Ph.D. | Ponce Health Sciences University
Mark Miller, Ph.D. | Institute of Neurobiology