Today's BP-ENDURE VirtualSeminar Series will be offered by a guest speaker, Dr. Edith Brignoni-Peréz, a postdoctoral fellow at the Developmental-Behavioral Pediatrics research unit at Standford University, School of Medicine.
Join her, is Kalai Diamond, for the second part of the seminar recruitment contact offering information about Standford and its programs. Kalai is the Sr. student services officer and administrative manager at Standford University.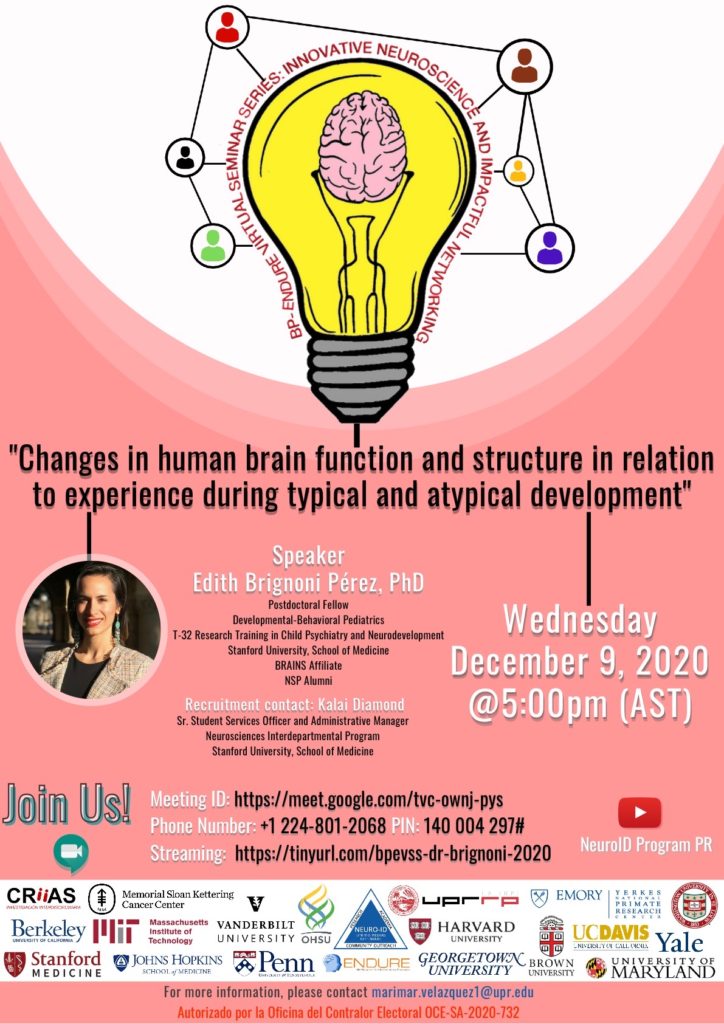 Date: Wednesday, December 9, 2020
Time: 5:00 pm – 6:30 pm (AST)

Speaker:
Edith Brignoni Pérez, Ph.D.
Postdoctoral Fellow
Developmental-Behavioral Pediatrics
T-32 Research Training in Child Psychiatry and Neurodevelopment
Stanford University, School of Medicine
BRAINS Affiliate
NSP Alumni

Recruitment contact:
Kalai Diamond
Sr. Student Services Officer and Administrative Manager
Neurosciences Interdepartmental Program
Stanford University, School of Medicine

Moderator: 
Carmen S. Maldonado-Vlaar, Ph.D.
Professor
Department of Biology
Co-PI NeuroID Program
UPR-Río Piedras Campus


HOW TO JOIN IN?
Platform:  Google Meet
Meeting ID: https://meet.google.com/tvc-ownj-pys
Phone Number: ‪ ‪(US) +1 224-801-2068
PIN: ‪140 004 297##
Live Streaming: https://stream.meet.google.com/stream/7320d69a-0f1e-41f8-9b37-4d94900e7510
For more information about the activity and any other information regarding our BP-ENDURE Virtual Seminars Series, please contact marimar.velazquez1@upr.edu.