On Wednesday, March 17, 2021, as part of the BP-ENDURE Virtual Seminar Series: Champions for Diversity in Neurosciences, will have as guest speaker, Dr. Oliver Rollins from the University of Louisville.
Time: 5:00pm-6:00pm (AST)
Platform: Zoom
REGISTRATION REQUIRED

Speaker:
Oliver RollinsAssistant ProfessorDepartment of SociologyUniversity of Louisville

Moderator:
Carmen S. Maldonado-Vlaar, Ph.D.
Professor, Department of Biology
Co-PI, NeuroID Program
University of Puerto Rico, Río Piedras Campus

Talk Description
While race, and especially its mistaken interpretation as a biological reality, has played a key role in the production of biological understandings of violence, recent research on violence using neuroimaging technologies reveals a conspicuous absence of race. In this talk, I show that this new brain science is haunted by the "taboo of race." While neuroscientists denounce the idea that violence is the product of racial differences in brain activity, they nevertheless employ a "color-blind" logic of race. This prevents the science from accurately recognizing how racism socially structures how society determines which behaviors and persons are violent, criminal, or antisocial. The "absent presence" of race, then, impacts both making and potential use of this science. As a result, I argue that neurobiological logics of violence can still help nourish illogical links among race, biology, and crime, and help bolster already problematic surveillance and law enforcement tactics against racially marginalized communities through the guise of public health and safety.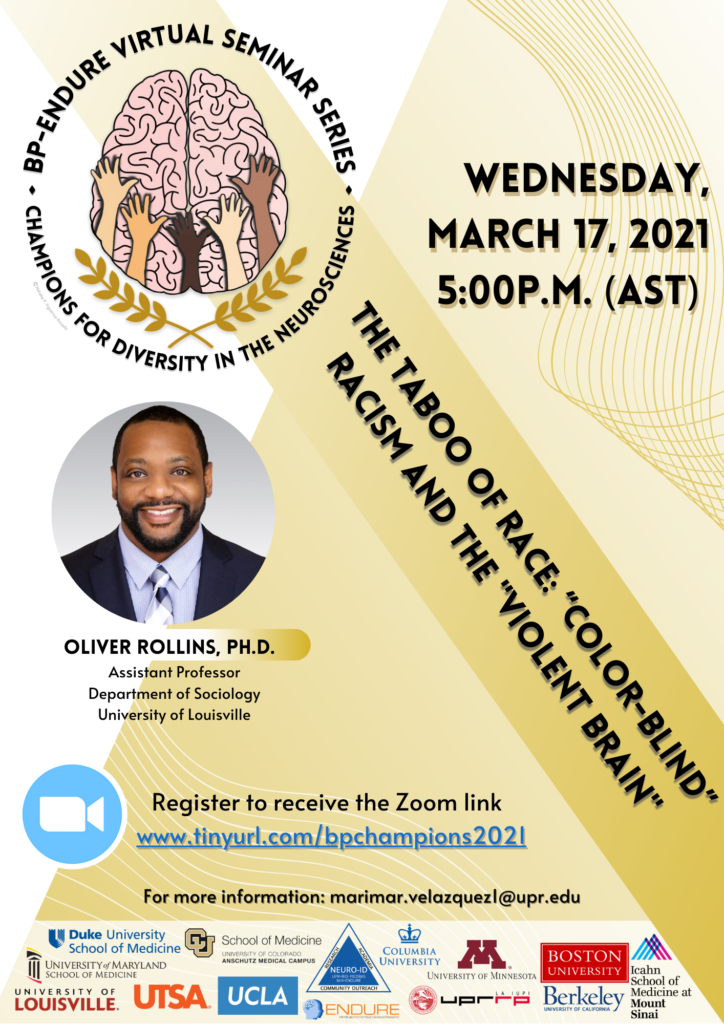 For more information regarding the BP-ENDURE Virtual Seminar Series, please contact marimar.velazquez1@upr.edu 
---
.