The NeuroID Program invites you to join our webinar BP-ENDURE Virtual Seminar Series: Champions for Diversity in the Neurosciences, this Wednesday, April 21, 2021 at 5:00pm (AST) via Zoom.
Title: "Developmental Cognitive Neuroscience in the Era of Big Data"
Date:  Wednesday, April 21, 2021
Time:  5:00pm (AST)
Platform: Zoom
Speaker:Damian Fair, PA-C , Ph.D.
Redleaf Endowed Director
Masonic Institute for the Developing Brain
Professor, Institute of Child Development
College of Education and Human Development 
Professor, Department of Pediatrics
University of Minnesota, Medical School
Moderator:
Carmen S. Maldonado-Vlaar, Ph.D.
Professor, Department of Biology
Co-PI, NeuroID Program
University of Puerto Rico, Río Piedras Campus
Register:
www.tinyurl.com/bpchampions2021
For more information regarding the BP-ENDURE Virtual Seminar Series, please contact marimar.velazquez1@upr.edu.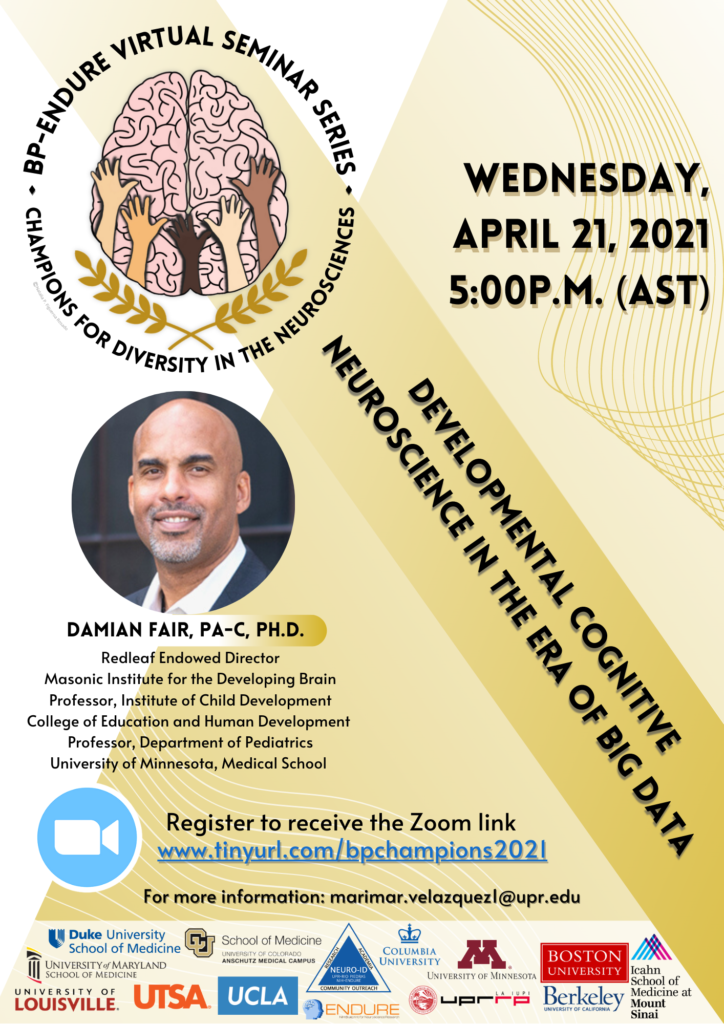 About Dr. Damian Fair's Research:
Dr. Fair's research focuses on mechanisms and principles that underlie child and adolescent brain development. The majority of his work uses functional MRI and resting state functional connectivity MRI to assess typical and atypical populations. His research also focuses on testing the feasibility of using various functional and structural MRI techniques in translational studies of developmental neuropsychiatric disorders like attention deficit hyperactivity disorder (ADHD) and autism. Dr. Fair's work cuts across both human and animal models using non-invasive tools as a bridge between species. He has published more than 100 articles in high-impact research journals including Nature Neuroscience, Molecular Psychiatry, Neuron, PLoS, PNAS, Science, and Psychological Science. His research has been funded by grants from the Gates Foundation, McDonnell Foundation, MacArthur Foundation, and the National Institutes of Health, and he has an extensive international network of collaborators. Dr. Fair has received many awards for his work, including the Presidential Early Career Award for Scientists and Engineers Issued by President Barack Obama and the White House.