Gian Carlos Molina-Castro, NeuroID former student from Class 2015, is 1 of 14 students that was awarded this year with the 2021 Diversity Leadership Award from Johns Hopkins University.
The ceremony will be held virtually from 3:oo p.m. to 4:30 p.m. on Tuesday, September 28, 2021.
To participate, register here: Join virtual celebration
Read the article by HUB at work about this announcement…
---
Author: Hub Staff Report | Date: September 24, 2021
Source: HUB
DLC to honor 14 individuals, two groups for commitment to diversity
and inclusion
Carey Professor James Calvin to be inaugural recipient of an award named for him
Each year, the Diversity Leadership Council gathers the Johns Hopkins community to honor and celebrate individuals and groups whose efforts make their workplace more inclusive, contribute to scholarship that investigates diversity in their area of study, and create partnerships with the community.
This year's ceremony—to be held virtually from 3 to 4:30 p.m. on Tuesday, Sept. 28—will honor 14 individuals and two groups. It will also include the presentation of the inaugural James Calvin Award for Excellence in Diversity, Equity, and Inclusion, which was conceived to recognize members of the JHU diversity, equity, and inclusion community who go above and beyond in their day-to-day DEI-focused work.
The recipient will be the man for whom the award is named: James Calvin, a professor of management and organization practice in the Carey Business School.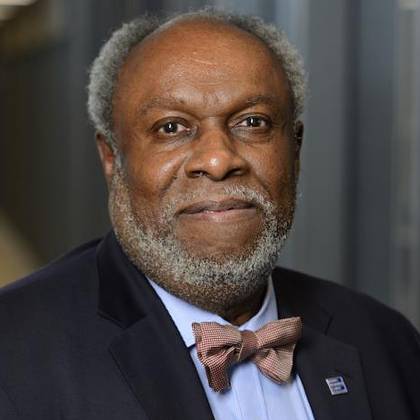 "Dr. Calvin has demonstrated a long-standing commitment to serving as a role model, mentor, and true advocate for justice, diversity, equity, and inclusion throughout his professional career," says Katrina Caldwell, chief diversity officer of Johns Hopkins University, about the decision to honor the professor. "For decades, he has played a key strategic role in building the infrastructures and supports for this work without the recognition that he so richly deserves. I cannot overemphasize the impact that his leadership and friendship have had on my successful transition to Hopkins."
Co-chairs of the awards workgroup are Clifton Shambry, assistant director of Life Design for Diversity and Inclusion in the Life Design Lab at Homewood, and Liz Skerritt, a project manager and section supervisor at the Applied Physics Laboratory.
Says Shambry of the upcoming event, "This is such a great time to celebrate the work that our community does to make Johns Hopkins and our world a more inclusive place."
This year's honorees, Shambry says, have made "some astounding contributions to justice, equity, and diversity, including, yet not limited to, creating community with and for underrepresented members of the Johns Hopkins family, facilitating conversations on a variety of topics leading to demonstrations and collaborative action, and creation and implementation of policy that changes the lives of community members and beyond."
The following members of the Johns Hopkins community will be recognized:
Individual awardees
Karla Alvarado
MSN candidate
School of Nursing
James Calvin
Professor, Management and Organization
Carey Business School
Ashley Cureton
Postdoctoral fellow and lecturer
School of Education
Farouk Dey
Vice provost for integrative learning and life design
University Administration
Carl DuPont
Assistant professor, Voice
Peabody Institute
Sabrina Epstein
Senior, Public Health Studies
Krieger School of Arts and Sciences
Susan Han
Associate director of Outreach and staff psychologist
Homewood Student Affairs
Brooke Jarrett
PhD candidate, Epidemiology
Bloomberg School of Public Health
Angie Lilly
Project manager and section supervisor
Applied Physics Laboratory
Gian C. Molina-Castro
Graduate student, Neuroscience
School of Medicine
Yi-Ping Ong
Associate professor, Comparative Thought and Literature
Krieger School of Arts and Sciences
Anika Penn
President
Alumni Council
Roshni Rao
Director, PHutures
Integrative Learning and Life Design
Jon Suen
PhD candidate
School of Nursing
Group awardees
Biomedical Scholars Association
Schools of Nursing, Medicine, and Public Health
ChemBE CDI (Chemical and Biomolecular Engineering Committee on Diversity)
Whiting School of Engineering